Note: If your Doorbell is already mounted, please safely dismount and disconnect the wiring to the Doorbell. You can reference the Doorbell Quick Setup Guide ("QSG") for this process. The Doorbell QSG can be located on our support site at NightOwlSP.com.
---
| | |
| --- | --- |
| 1. TURN OFF THE POWER AT THE BREAKER BEFORE TOUCHING ANY WIRES! | 2. Place the mounting plate flush against the wall and run the Doorbell wiring through the center opening in the mounting plate. |
| | |
3. Option 1 (Mounting Plate without Junction Box)
| | |
| --- | --- |
| A. Use the mounting plate or Doorbell Mounting or Doorbell Mounting Plate Template to mark the positioning for the mounting plate screw holes. | B. For stucco, brick or concrete, make the new holes using a 15/64 drill bit and insert the provided plastic anchors into the holes. For wood or siding, use a 3/64 drill bit and save the wall anchors for another project. |
C. Use Mounting Screws to fasten the mounting plate to the surface.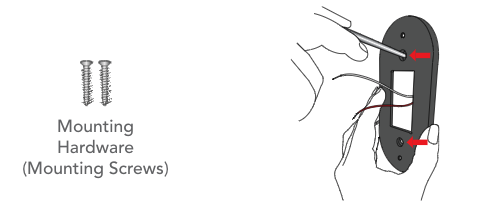 3. Option 2 (Mounting Plate to Junction Box)
| | |
| --- | --- |
| A. Line up the mounting plate screw holes with the Junction Box holes. | B. Use the Junction Box Mounting Screws to connect the mounting plate to the Junction Box. |
| | |
| --- | --- |
| 4. Reconnect the wiring to the Doorbell. | 5. With the faceplate removed from the Doorbell, attach the Doorbell to the mounting plate using the Plate Mounting Screws. |
| 6. Once the Doorbell is mounted, place the faceplate over the Doorbell. Securely fasten the faceplate using the Torx Key and Security Screw. (Torx Key is the smaller end of the two-sided tool). | 7. Turn the power back on at the breaker. |